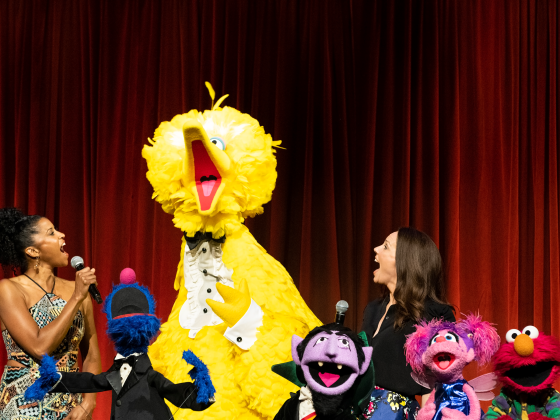 Sesame Workshop's 20th Annual Benefit Celebrates Sunnier Days Ahead, Honoring Bank of America 
The event also featured host Erica Hill, special guests John Oliver and Renée Elise Goldsberry, and the Sesame Street Muppets
(New York, June 1, 2023) — Last night, Sesame Workshop, the nonprofit organization behind Sesame Street, hosted its 20th annual benefit, highlighting Sunnier Days Ahead and the Workshop's recently announced multi-year commitment to the emotional well-being of children and families in response to the growing mental health crisis for young children.
Sesame Workshop honored Bank of America with the Civic Leadership Award, accepted by Bank of America's Chief Human Resources Officer, Sheri B. Bronstein. Sesame Workshop's President, Sherrie Westin, was also honored for her 25 years of dedicated service to the Workshop. The event was hosted by CNN's Erica Hill at Cipriani 42nd Street and featured special appearances by John Oliver and the Sesame Street Muppets as well as a musical performance by Tony Award winner Renée Elise Goldsberry.
Last night's benefit, Sunnier Days Ahead, spotlighted Sesame Workshop's new multi-year focus on the emotional well-being of children and families, which kicked off in May with Mental Health Awareness Month. Through a wide range of activities and engaging content, Sesame Workshop is providing strategies to support all families – from celebrating joyful everyday moments and helping children learn the essential skills they need to understand and manage their feelings to supporting parents and community providers in understanding the importance of recognizing signs of possible emotional distress.
"Our youngest children are often overlooked in discussions about mental health, but there's growing evidence that they are struggling, now more than ever. That's why we have committed to taking a deeper, stronger role in addressing the emotional well-being of young children and their families," said Sherrie Westin, President, Sesame Workshop. "With the generous support of our partners, we can join the caring adults in children's lives to help develop the social-emotional foundation for positive outcomes later in life."
Bank of America was honored with the Civic Leadership Award for its commitment to breaking down the stigma associated with mental health distress and its industry-leading focus on employee emotional wellness.
"As mental health concerns are on the rise, Bank of America is a leader in how companies should support employees and their families through these challenges," said Hillary Strong, Chief Development Officer, Sesame Workshop."We're grateful for Bank of America's incredible support of Sesame Workshop's mission and its dedication to improving the emotional well-being of their community and families."
Last night's benefit raised $3.3 million, which will help Sesame Workshop continue to reach and teach children around the world. Sesame Workshop's social impact work is made possible with the generous support of like-minded partners including government, foundations, corporations, and individuals, as well as proceeds from the annual benefit.
Sesame Workshop extends a special thank you to Presenting Partner Joan Ganz Cooney; Visionary Partner Bank of America; and Neighborhood Heroes: Bloomberg Philanthropies, Just Play Cares, Christy and John Mack, Ogden CAP Properties, Pfizer Inc., Diane Sawyer, Ann and Andrew Tisch, and YouTube Kids for their exceptional generosity toward this celebration. Special thanks as well to Cipriani 42nd Street, Star Group Productions, Preston Bailey Entertainment and Set Design, and The Jim Henson Company for their support of last night's benefit.
About Sesame Workshop  
Sesame Workshop is the nonprofit educational organization behind Sesame Street, the pioneering television show that has been reaching and teaching children since 1969. Today, Sesame Workshop is an innovative force for change, with a mission to help children everywhere grow smarter, stronger, and kinder. We're present in more than 150 countries, serving vulnerable children through a wide range of media, formal education, and philanthropically funded social impact programs, each grounded in rigorous research and tailored to the needs and cultures of the communities we serve. Learn more at www.sesameworkshop.org and follow Sesame Workshop on Instagram, Twitter, Facebook, and TikTok.