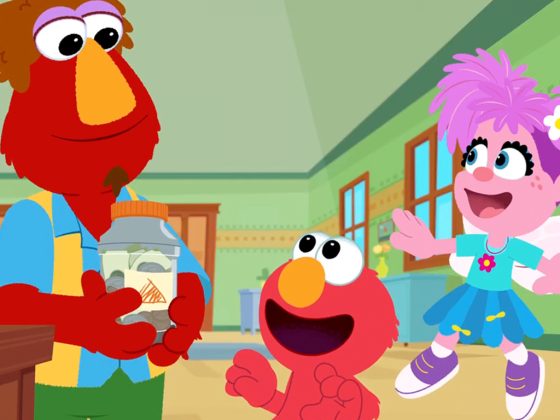 Sesame Workshop Launches New Resources to Help Children and Families Learn Financial Literacy Skills with Support from PNC Foundation
Free bilingual videos, guides and articles help caregivers and educators guide children in understanding the value of money and learning to make good financial choices.
(New York, NY – Oct. 3, 2023) Sesame Workshop, the global impact nonprofit behind Sesame Street, today released new resources to help young children learn the basic concepts that serve as a foundation for financial education. Created with generous support from PNC Foundation through PNC Grow Up Great®, a nearly 20-year early childhood education initiative, the resources support early conversations around spending, sharing and saving money.
Financial stability remains a top concern for families with young children and by supporting caregivers and educators in teaching foundational financial skills early, they can help prepare children to make sound financial decisions as they grow.
These free bilingual videos, activity guides, and articles feature Sesame Street friends Elmo and his dad, Louie; Cookie Monster; Abby; Bert; and Ernie as they learn about spending and saving, as well as the everyday moments they share that bring about joy in their lives:
"Empowering our children with foundational financial skills is not just about teaching dollars and cents; it's about nurturing a lifetime of smart choices," said Dr. Jeanette Betancourt, Senior Vice President of U.S. Social Impact, Sesame Workshop. "By fostering financial education from an early age, we equip our little ones with the tools they need to understand the true value of money and embrace a future of sound financial decisions."
The new resources can be found in English and Spanish at sesame.org/FinancialEd. Additionally, they are being distributed through the Sesame Street in Communities program, an initiative for community providers who serve families and help children face challenges big and small. Teachers, healthcare professionals, social workers, and any providers working with families and children, are invited to use and share Sesame Workshop's large and growing library of bilingual resources and professional development tools, created to support them in their vital work.
"Financial education is something PNC is passionate about, and Sesame helped us understand how the concepts could be applied to the early childhood age range we serve through PNC Grow Up Great," said Sally McCrady, chair and president of the PNC Foundation. "Through everyday moments, the resources provide a wonderful and fun way for parents and caregivers to introduce children to basic financial concepts as they talk about sharing, spending and saving."
About PNC Foundation
The PNC Foundation, which receives its principal funding from The PNC Financial Services Group (www.pnc.com), actively supports organizations that provide services for the benefit of communities in which it has a significant presence. The foundation focuses its philanthropic mission on early childhood education and community and economic development, which includes the arts and culture. Through PNC Grow Up Great®, its signature cause that began in 2004, PNC has created a bilingual $500 million, multi-year initiative to help prepare children from birth to age 5 for success in school and life. For more information, visit http://www.pncgrowupgreat.com.
About Sesame Workshop 
Sesame Workshop is the global impact nonprofit behind Sesame Street and so much more. For over 50 years, we have worked at the intersection of education, media, and research, creating joyful experiences that enrich minds and expand hearts, all in service of empowering each generation to build a better world. Our beloved characters, iconic shows, outreach in communities, and more bring playful early learning to families in more than 150 countries and advance our mission to help children everywhere grow smarter, stronger, and kinder. Learn more at www.sesameworkshop.org and follow Sesame Workshop on Instagram, Twitter, Facebook, and TikTok.