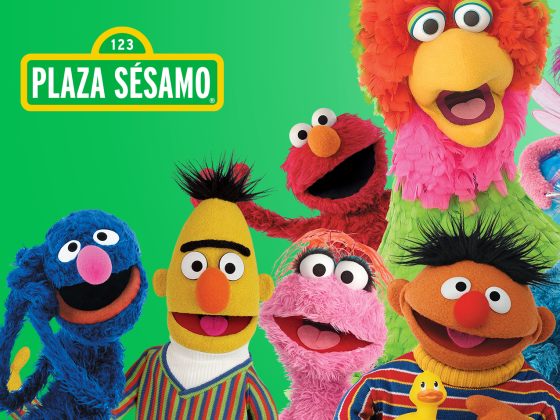 Sesame Workshop and Dicapta Collaborate to Increase Accessibility of Sesame Street Content for Children with Disabilities
Spanish-language videos will be available with descriptive audio and captions, while emotional well-being content will have audio description and ASL versions
(New York, NY — September 12, 2023) – Spanish-language versions of fan favorites Sesame Street and Cookie Monster's Foodie Truck will now be available with descriptive audio and captions through a collaboration with Dicapta and funding from the U.S. Department of Education (DOE). Sesame Workshop, the nonprofit educational organization behind the Sesame-branded series, will also include expanded accessibility for Plaza Sesamo, Listos a Jugar, Pequenas Aventureras, Monstruos en Red, Elmo and Tango's Mysterious Mysteries, and The Furchester Hotel, all of which are available on Plaza Sesamo's YouTube channel.
Additionally, the collaboration with Dicapta includes the creation of descriptive audio and ASL versionings of "The Feelings Garden," "Me & My Grown-Up," and "I Notice, I Feel, I Can" featuring the beloved Muppets of Sesame Street. The videos, available on Sesame Workshop's YouTube channel, are part of the organization's response to the growing mental health crisis for young children, and introduce emotional well-being content for families. Sesame Workshop will continue to roll out descriptive audio and ASL versions of content covering topics such as school readiness, financial education, and professional development.
"At Sesame Workshop, we are committed to providing engaging content to help all children grow smarter, stronger and kinder," said Whit Higgins, Executive Vice President and Head of Global Enterprises, Sesame Workshop. "We address critical needs through a wide range of activities and resources on multiple platforms to reach our audience wherever they are. We are thrilled to work with Dicapta to increase access for children with disabilities."
"Dicapta has been providing accessibility services to the Latinx community with disabilities for nearly two decades," shared Maria-Victoria Diaz, CEO and President of Dicapta. "Our partnership with Sesame Workshop,under ourEnhAccess project,helps us advance our mission – to provide accessible content to families in the U.S. It's an honor to now be providing access to content from such an iconic and engaging brand. We look forward to our ongoing partnership and to continue increasing accessibility through our work."
About Sesame Workshop
Sesame Workshop is the global impact nonprofit behind Sesame Street and so much more. For over 50 years, we have worked at the intersection of education, media, and research, creating joyful experiences that enrich minds and expand hearts, all in service of empowering each generation to build a better world. Our beloved characters, iconic shows, outreach in communities, and more bring playful early learning to families in more than 150 countries and advance our mission to help children everywhere grow smarter, stronger, and kinder. Learn more at www.sesameworkshop.org and follow Sesame Workshop on Instagram, Twitter, Facebook, and TikTok.
About Dicapta
Dicapta Corporation is a communications technology company focused on making media accessible for people with visual and hearing disabilities. It has been offering high-quality audio description, captioning, and language customization services since 2004. Dicapta has served the TV industry, media companies, educational institutions, and a variety of organizations in making communications accessible to everyone. Dicapta has also been funded by the United States Department of Education and the United States Department of Health and Human Services to work on the creation of accessibility assets and the development of technology to improve access to media for people with sensory disabilities. Learn more at dicapta.com.
Contact
Beatrice Chow, Sesame Workshop
Olga Lucia Collazos, Dicapta