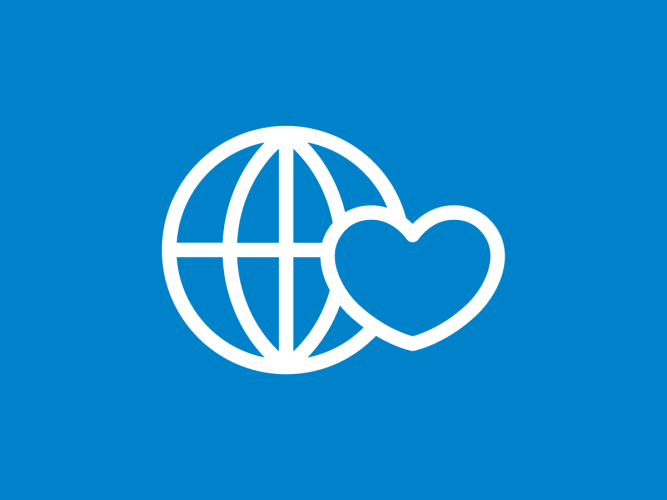 New Arabic-Language Version of Sesame Street to Premiere Across the Middle East
Ahlan Simsim, or "Welcome Sesame" in Arabic, designed to help children across Middle East cope with big feelings
New show is part of groundbreaking humanitarian program providing early learning to children affected by crisis and displacement
(January 22, 2020 — New York, NY) — For 50 years, Sesame Workshop has helped children around the world grow smarter, stronger, and kinder—and now, a brand-new, locally produced version of Sesame Street is coming to television and digital screens across the Middle East and North Africa. Ahlan Simsim ("Welcome Sesame" in Arabic), premieres February 2 on regional children's TV station MBC3, as well as on YouTube and local broadcast channels across the region. The new Ahlan Simsim show is part of a groundbreaking humanitarian program between Sesame Workshop and the International Rescue Committee (IRC) that aims to address the devastating impacts of crisis and displacement on children across Syria, Iraq, Jordan, and Lebanon.
Specially designed for children ages 3-8, Ahlan Simsim features familiar friends Elmo, Cookie Monster, and Grover, as well as two brand-new Muppet characters named Basma and Jad. Basma, an almost-6-year-old purple Muppet, welcomes her yellow-furred friend Jad with open arms when he moves to her neighborhood. Basma is a born performer who loves to sing, while Jad expresses himself through art and can paint in midair with his grandfather's special paintbrush. Each episode of Ahlan Simsim follows Basma and Jad as they explore their world with the help of trusted adults, animated characters, and friends like a lovable and mischievous baby goat named Ma'zooza who eats everything in sight.
The broader humanitarian program, also called Ahlan Simsim, combines the new show and in-person direct services featuring storybooks, educational materials, and caregiver-facing programming across Iraq, Jordan, Lebanon, and Syria and will bring playful early learning opportunities to millions of children and caregivers wherever they are—from classrooms and health clinics to TV and mobile devices. The program received the John D. and Catherine T. MacArthur Foundation's first-ever 100&Change $100 Million award, with additional support provided by the LEGO Foundation, the first organization to step up to the MacArthur Foundation's call for the bold philanthropy needed to transform the way the humanitarian system serves children affected by crisis. The Ahlan Simsim program is poised to become the largest early childhood development intervention in the history of humanitarian response.
"Ahlan Simsim's premiere season will help millions of children across the region learn how to identify and manage big feelings—skills that form a crucial developmental foundation for young children, especially those who have experienced the trauma of war and displacement," said Sherrie Westin, President of Social Impact & Philanthropy, Sesame Workshop. "By harnessing the proven power of the Sesame Muppets, culturally relevant storylines, and learning through play, Ahlan Simsim will teach children the emotional ABCs they need to overcome challenges and thrive."
Designed in close collaboration with local producers, creatives, and early childhood development experts, the first half of each Ahlan Simsim episode is a comedic story segment, during which Basma and Jad experience emotions in situations relatable to young children, like fear of the dark during a movie night or frustration when friends don't play by the rules of a game. Each time, Basma and Jad learn to manage their feelings by practicing concrete strategies such as counting to five, belly breathing, and expression through art. The fun continues in the second half of each episode during a variety show segment, when real kids and celebrity guests join the characters to play games and sing songs that reinforce the episode's educational content.
"The needs of young children are so often invisible in humanitarian settings. Currently, less than 3% of all humanitarian aid supports education, and only a small fraction of that supports early education," said Dr. Sarah Smith, Senior Director of Education at the IRC. "Our direct services across the Syrian response region, which integrate the new Ahlan Simsim show and accompanying educational materials, provide playful early learning opportunities that can put millions of refugee children—and their new neighbors in host communities—on the path to brighter futures."
Sesame Workshop has a long history of making groundbreaking, localized educational children's content in the Middle East and North Africa. Children have been laughing and learning alongside Sesame's Muppet characters for 40 years: Iftah Ya Simsim premiered in the Middle East in 1979, followed by local Egyptian, Jordanian, Palestinian, and Israeli versions of Sesame Street. Produced in Amman by Jordan Pioneers, the new Ahlan Simsim show is brought to life by a team of writers, producers, and performers from across the region.
Starting February 2, Ahlan Simsim will be broadcast daily on MBC3 and local stations across the region. Episodes and bonus content will also be available on the Ahlan Simsim YouTube channel.
About Sesame Workshop
Sesame Workshop is the nonprofit educational organization behind Sesame Street, the pioneering television show that has been reaching and teaching children since 1969. Today, Sesame Workshop is an innovative force for change, with a mission to help kids everywhere grow smarter, stronger, and kinder. We're present in more than 150 countries, serving vulnerable children through a wide range of media, formal education, and philanthropically-funded social impact programs, each grounded in rigorous research and tailored to the needs and cultures of the communities we serve. For more information, please visit www.sesameworkshop.org.
Contacts
Cailey Cron
Cailey.Cron@sesame.org
Hallie Ruvin
Hallie.Ruvin@sesame.org