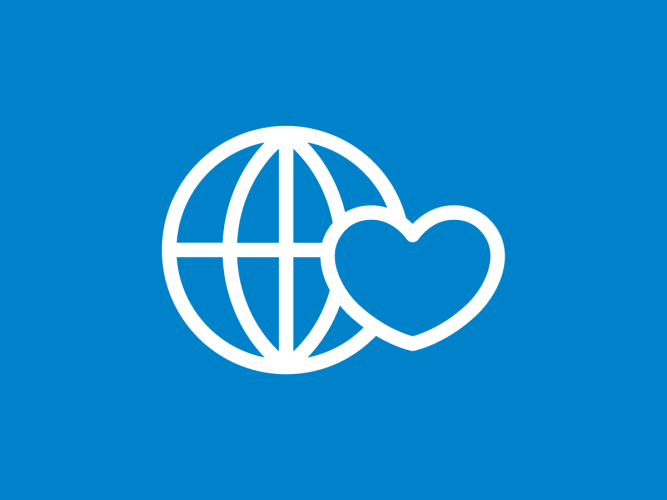 Join Ahlan Simsim for a New Season of Fun Adventures that Encourage Playful Learning and Problem Solving
Basma and Jad are back with a brand-new friend and new episodes to help children across the Middle East and North Africa learn to "Stop, Notice, and Think"
(Amman, Jordan) — Ahlan Simsim, the award-winning children's show from the creators of Iftah Ya Simsim and Sesame Street shows around the world, returns to screens for a third season for children and families across the region.
Premiering on February 28th, the new season features unique characters Basma, Jad, and Ma'zooza who, along with familiar friends Elmo, Cookie Monster, and Grover, share relatable stories and take young viewers on exciting adventures.
Season 3 expands on Ahlan Simsim's social-emotional learning focus to help children navigate life's challenges. Characters use new strategies like "Stop, Notice, Think" to pause and manage their initial impulses when faced with an obstacle. New episodes encourage young viewers to challenge their assumptions, consider others' thoughts and feelings, and adapt—skills that are critical for children's success in school and life. The show's curriculum and storylines are designed in close collaboration with local early childhood specialists, psychologists, and creatives.
"It's more important than ever to help children and families embrace playful learning and adaptability to overcome the challenges of today and those of the future," said Khaled Haddad, Executive Producer of Ahlan Simsim. "The new season puts children's feelings and long-term wellbeing in focus, with lessons designed to build crucial skills for school and life, all with the humor and joy that Ahlan Simsim is known for."
"Ahlan Simsim is created in the region for today's children. As with every season of Ahlan Simsim, our show responds to their current needs and experiences, providing the skills they need to grow smarter, stronger, and kinder in a changing world," said René Celaya, Managing Director of Ahlan Simsim. "We are so proud to share this locally grounded, socially relevant show that encourages children to be enthusiastic and adaptable learners."
New to this season is a "Do It Yourself" (DIY) segment, featuring tutorials for creative activities and educational experiments that children can easily follow at home. The new DIY segment features Salma, a brand-new friend in the neighborhood who helps Basma and Jad develop their creativity and confidence as they build toy boats, make-believe binoculars, and more. This new segment is designed to inspire children and families to continue the learning offscreen by using recycled household materials to play and learn at home. This season also features "Playful Problem Solving" and "Number of the Day" segments to encourage critical thinking and promote numeracy.
Produced in Amman with Jordan Pioneers, Ahlan Simsim is brought to life by a team of writers, producers, and performers from across the Middle East and North Africa. First launched in February 2020, the show joins a long line of groundbreaking Arabic-language shows from Sesame Workshop.
In its first six months on air, Ahlan Simsim reached over 3 million children in Iraq, Jordan, Lebanon, and Syria and millions more across MENA. In November 2020, the Ahlan Simsim episode "Piece of the Past" was awarded the Teacher's Choice Award at the Chicago International Children's Film Festival.
Ahlan Simsim is more than a TV show—it is part of a broader humanitarian initiative of the same name, in a partnership between Sesame Workshop and the International Rescue Committee (IRC). Aimed at delivering early learning and nurturing care to children and caregivers affected by conflict and crisis, Ahlan Simsim provides concrete lessons and strategies that form a crucial developmental foundation for all young children, especially those who have suffered adverse experiences like the trauma of displacement.
Through the TV show and services delivered through IRC and local partners, Ahlan Simsim reaches families across Iraq, Jordan, Lebanon, and Syria with the vital early education that children need to thrive. Generously funded by the John D. and Catherine T. MacArthur Foundation and the LEGO Foundation, the program not only addresses immediate needs, but provides a strong foundation for future wellbeing.
Channels and timings:
Starting February 28th, Season 3 of Ahlan Simsim will air daily on MBC3 from Sunday to Thursday at 1:00pm KSA.
Ahlan Simsim episodes will also be available on a variety of regional and national TV stations, including Rotana Kids, Roya TV and Jordan TV in Jordan, Sat 7 Kids, Nour Sat and Tele Liban in Lebanon, Al Sumaria and UTV in Iraq, and NRT 3 in the Kurdish Region of Iraq (in Kurdish).
Full episodes and bonus content are also available on the Ahlan Simsim YouTube channel. Visit www.ahlansimsim.org for videos, storybooks, and a variety of materials to support young children's at-home learning.
About Ahlan Simsim
Ahlan Simsim is an Arabic-language version of Sesame Street that follows the adventures of Basma and Jad, two best friends exploring their world. Each episode features familiar Muppet friends, animated characters, and trusted adults who help our characters learn how to "Stop, Notice and Think" about how others are feeling—with lots of fun, laughter, and learning along the way! Learn more at www.ahlansimsim.org
About Sesame Workshop
Sesame Workshop is the nonprofit educational organization behind Sesame Street, the pioneering television show that has been reaching and teaching children since 1969. Today, Sesame Workshop is an innovative force for change, with a mission to help kids everywhere grow smarter, stronger, and kinder. We're present in more than 150 countries, serving vulnerable children through a wide range of media, formal education, and philanthropically funded social impact programs, each grounded in rigorous research and tailored to the needs and cultures of the communities we serve. For more information, please visit www.sesameworkshop.org.
Contact
Fatima-Ezzahra Fettar
Fatima-Ezzahra.Fettar@sesame.org