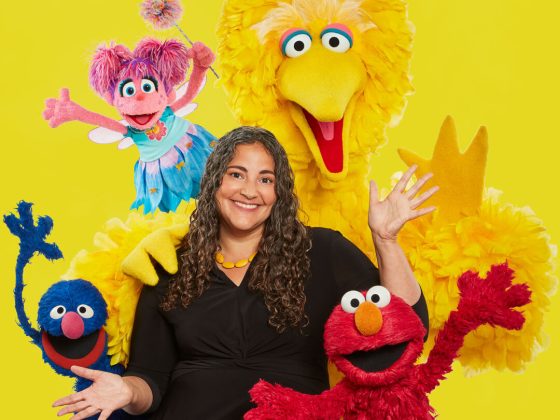 The Happiness Lab Teams up with Sesame Workshop For Special Emotional Wellbeing Mini-Series
Starting on September 18th, Dr. Laurie Santos is joined by Abby Cadabby, Big Bird, and Grover for a three-episode series on happiness strategies for children and their parents and families.
New York, NY – Dr. Laurie Santos is teaming up with Sesame Workshop, the nonprofit educational organization behind Sesame Street, for a special three-episode series on The Happiness Lab podcast that will focus on concrete strategies parents and families can use in support of their emotional wellness and happiness. With help from some of the beloved characters and songs from Sesame Street, Dr. Santos explores why it's never too early, or too late, to improve your emotional well-being.
The series will feature the familiar voices of Abby Cadabby, Big Bird, and Grover, all while tackling themes related to improving the emotional well-being of parents and children. Some of the themes spotlighted in the three episodes include strategies for how to properly regulate emotions and ways we can sweep away overtly negative self-criticism.
In May, Dr. Santos joined Sesame Workshop to announce their new organization-wide focus on the emotional well-being of young children and their families in a live conversation with Elmo, Sesame Workshop CEO Steve Youngwood, and Kay Wilson Stallings, Executive Vice President, Chief Production and Creative Development Officer (listen here).
The new three-episode series of The Happiness Lab premieres on September 18, 2023 and will be available on iHeartPodcasts, Apple, Spotify, YouTube, and wherever podcasts are streamed. Pushkin+ subscribers will be able to binge the mini-series on the very first day. For more information visit www.Pushkin.fm. Episodes will include:
Episode One: Can You Tell Me How to Get to a Happier Street? (ft. Abby Cadabby)
Episode Two: Sunny Day, Everything's A-OK: Feelings Are Like the Weather (ft. Big Bird)
Episode Three: Sweeping the Self Criticism Away (ft. Grover)
Lending their expertise to the episodes are Sesame Workshop's Rocio Galarza, Vice President, Educational Content, US Social Impact; Akimi Gibson, Vice President & Educational Publisher, Formal Learning and Racial Justice Content Synergy; and Dr. Rosemarie Truglio, Senior Vice President, Curriculum and Content.
ABOUT LAURIE SANTOS
Dr. Laurie Santos is Professor of Psychology and Head of Silliman College at Yale University. Professor and podcast host Dr. Laurie Santos is an expert on human cognition and the cognitive biases that impede better choices. Her course, "Psychology and the Good Life," teaches students what the science of psychology says about how to make wiser choices and live a life that's happier and more fulfilling. The class is Yale's most popular course in over 300 years and has been adapted into a free Coursera program that has been taken by over 3.3 million people to date. Dr. Santos has been featured in numerous news outlets including the New York Times, NBC Nightly News, The Today Show, CBS This Morning, NPR, GQ Magazine, Slate, CNN and O, The Oprah Magazine. Dr. Santos is a winner of numerous awards both for her science and teaching from institutions such as Yale and the American Psychological Association. She has been featured as one of Popular Science's "Brilliant 10" young minds and was named TIME's "Leading Campus Celebrity." Dr. Laurie Santos is the podcast host for The Happiness Lab, which launched in 2019 has over 35 million downloads.
ABOUT PUSHKIN INDUSTRIES
Pushkin Industries is an audio production company co-founded by Malcolm Gladwell and Jacob Weisberg in 2018. Pushkin has produced numerous shows that have broken into the top 10 on Apple Podcasts, including Gladwell's hugely successful Revisionist History, Against the Rules, The Happiness Lab, Broken Record, Cautionary Tales, The Last Archive, Deep Cover and Lost Hills. Our podcast hosts include Michael Lewis, Jill Lepore, Rick Rubin, Maya Shankar, Tim Harford, Laurie Santos, Ibram X. Kendi and many more. Pushkin's original audiobooks include the New York Times audio bestsellers Fauci by Michael Specter and The Bomber Mafia and Talking to Strangers by Malcolm Gladwell. Pushkin is dedicated to producing audio in any format that challenges listeners, encourages their curiosity, and inspires joy. Visit pushkin.fm, where you can purchase our audiobooks and then listen on your podcast player of choice.
ABOUT SESAME WORKSHOP
Sesame Workshop is the nonprofit educational organization behind Sesame Street, the pioneering television show that has been reaching and teaching children since 1969. Today, Sesame Workshop is an innovative force for change, with a mission to help children everywhere grow smarter, stronger, and kinder. We're present in more than 150 countries, serving vulnerable children through a wide range of media, formal education, and philanthropically funded social impact programs, each grounded in rigorous research and tailored to the needs and cultures of the communities we serve. Learn more at www.sesameworkshop.org and follow Sesame Workshop on Instagram, Twitter, Facebook, and TikTok.