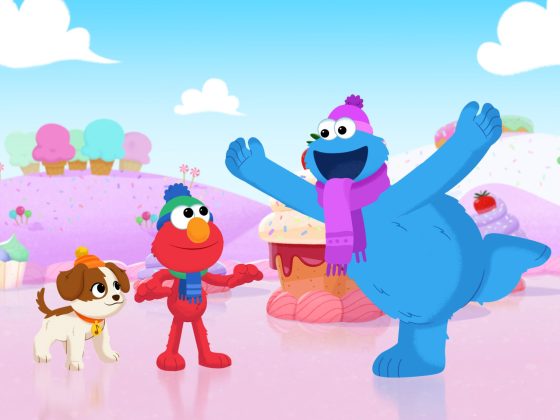 Brand New Animated Holiday Special Sesame Street The Nutcracker Starring Elmo and Tango to Debut Thursday, Dec. 1 on Cartoonito on HBO Max
(New York, NY – November 17, 2022) – Get ready for a new holiday tradition with Sesame Street The Nutcracker. The classic story is retold Sesame Street-style in an animated special that follows Elmo and his puppy Tango on a fantastical adventure filled with new music and friends, and where Tango speaks for the very first time. This 30-minute festive feature is a celebration of the greatest gift of all: friendship. Sesame Street The Nutcracker streams Thursday, Dec. 1 on Cartoonito, the preschool block on HBO Max, and on PBS KIDS in 2023.
The holidays are here on Sesame Street, and Elmo is determined to make it the best Christmas ever for Tango. At Elmo's family holiday party, friends and family sing about how wonderful this holiday will be. The Count arrives bearing gifts for everyone, including a wind-up rocket ship for Elmo and a cute, nutcracker-shaped doggy toy for Tango. After a fun-filled night, Elmo and Tango fall asleep listening to Elmo's dad, Louie, read them the story of The Nutcracker. Elmo drifts into a dream sequence where Tango can speak, and that's when the adventure to magical lands begins.
Sesame Street The Nutcracker features a brand new song, "Best Christmas Ever," from TV and film composer Paul Buckley, which will be unveiled when it's performed by the Sesame Street cast at the Macy's Thanksgiving Day Parade® this year.
"When you take a classic holiday story, pair it with beloved characters, add festive new music and a dash of furry fun, you've created a perennial favorite," said Olexa Hewryk, Vice President & Head of Animation, Sesame Workshop. "With its beautiful animation and engaging storytelling, it captures what makes the holidays so special; we're sure kids and families will be looking forward to Sesame Street The Nutcracker year after year."
"This special has all the ingredients to be an instant holiday classic and it's a perfect way to usher in our festive month-long celebration of all-new Cartoonito favorites," said Amy Friedman, head of kids & family programming, Warner Bros. Discovery. "Sesame Street The Nutcracker serves as a beloved reminder of the power of imagination, friends, and family during this special time of the year."
Award-winning production studio A Productions developed the animation and design look of Sesame Street The Nutcracker. Based in Bristol, UK, the studio has also animated Sesame Street specials, The Monster at the End of This Story, and Furry Friends Forever: Elmo Gets a Puppy, where Elmo first meets stray puppy Tango.
Two new books extend the laughter and learning from the special. In Best Christmas Ever (Sesame Street) from Penguin Random House, it's Tango's first Christmas on Sesame Street, and Elmo makes sure his puppy gets to experience all the fun, from decorating the tree to eating yummy Christmas cookies — but best of all is spending time together. In Sesame Street: The Nutcracker from Studio Fun, it's Christmas Eve on Sesame Street. When a mouse takes Tango's new Nutcracker toy, she and Elmo go on an amazing adventure through magical lands to get it back.
In addition, in partnership with Warner Arts Music, Sesame Workshop has released an album with seven tracks including the title song "Best Christmas Ever," "Cookie Monster's Skating Class," and "Sugar Plum Fairy Abby," along with two instrumental score tracks based on the original Nutcracker music, for all fans to enjoy.
About Sesame Workshop
Sesame Workshop is the nonprofit educational organization behind Sesame Street, the pioneering television show that has been reaching and teaching children since 1969. Today, Sesame Workshop is an innovative force for change, with a mission to help kids everywhere grow smarter, stronger, and kinder. We're present in more than 150 countries, serving vulnerable children through a wide range of media, formal education, and philanthropically funded social impact programs, each grounded in rigorous research and tailored to the needs and cultures of the communities we serve. For more information, please visit www.sesameworkshop.org.
About Cartoonito
Cartoonito is the preschool block on Cartoon Network and HBO Max. Inspired by Positive Psychology and 21st Century Learning, Cartoonito is based on the proprietary preschool educational framework of Humancentric Learning, which aims to support every child's humanness by celebrating their unique selves and encouraging them to treat others with compassion, respect, and fairness. Cartoonito offers modern programming that leans into Warner Bros. Discovery's iconic IP that stems from Warner Bros. Animation and Cartoon Network Studios. This includes "Batwheels," "Bugs Bunny Builders," "Tom and Jerry Time," and "Scooby-Doo! And the Mystery Pups"; and new series and specials from Sesame Workshop such as "Sesame Street Mecha Builders," and "Sesame Street The Nutcracker".