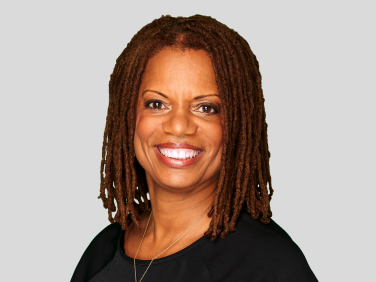 Kay Wilson Stallings
Executive Vice President, Chief Creative Development and Production Officer
Kay Wilson Stallings serves as Executive Vice President, Chief Creative Development and Production Officer for Sesame Workshop.
She oversees Sesame Street and all Sesame Workshop shows as well as the development of new programs and content across existing and emerging platforms. She also leads creative for domestic production and partners with global teams to enrich and expand Sesame Workshop's presence around the world.
Wilson Stallings greatly expanded the Workshop's impact through animation, with specials including The Monster at the End of This Story and Furry Friends Forever: Elmo Gets a Puppy as well as new shows such as Mecha Builders, the first CGI-animated spinoff of Sesame Street, and the preschool comedy series Bea's Block. Newly animated literature-based miniseries are in development, beginning with the E.B. White classic, Charlotte's Web. She was most recently the SVP of Creative Development at Sesame Workshop, where she developed the first new Sesame Workshop shows in nearly a decade: the critically acclaimed and award-winning Esme & Roy, Helpsters, and Ghostwriter. Wilson Stallings created Sesame Studios, a YouTube channel hosting a broad mix of original stories, songs, and other Sesame-quality kids' content.
In 2017, Wilson Stallings created and directed the first annual Sesame Workshop Writers' Room, an intensive six-week competitive fellowship program dedicated to discovering, nurturing, and increasing the presence of writers with diverse voices in children's media. Held at Sesame Workshop's New York City office, participants come from across the country to meet weekly with industry writers, producers, agents, and executives, with two winners each year offered creative development deals. Upon completing the program, many participants find staff positions on kids' series for production companies like Netflix, DreamWorks, Nickelodeon, and more.
Prior to joining Sesame Workshop, Wilson Stallings was Senior Vice President of Production and Development at Nick Jr., Nickelodeon's preschool programming arm. In her 16 years with the company, she oversaw development of original series and co-productions, including pre-buys, acquisitions, and the global shorts program. Stallings developed and helped launch more than 20 series while at Nickelodeon, including Wonder Pets, Yo Gabba Gabba!, Fresh Beat Band, Shimmer and Shine, Blaze and the Monster Machines, Wallykazam, and Wow! Wow! Wubbzy!
In 2023, Wilson Stallings was named to The Hollywood Reporter's first-ever list of "The 75 Most Powerful People in Kids' Entertainment." She holds a Master's degree from the University of Illinois and a Bachelor's degree from MacMurray College. She lives in Brooklyn with her husband and son.
Contact for Speaking Engagements
Sesame Workshop Speakers Bureau
SpeakersBureau@sesame.org