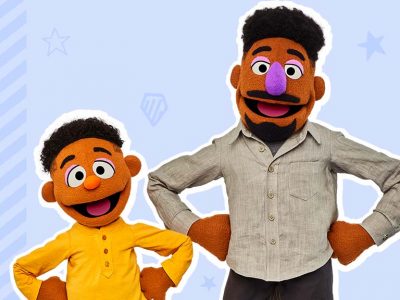 Week 3: Teaching Togetherness
The Big Idea: Talking about our differences helps us recognize we are better together.
Welcome to Week 3, Day 1 of Room to Grow!
Today is all about helping you engage with your students as they interact with their communities!
Day 1: Classroom Communities
Day 1: Classroom Communities
Children of all ages are curious about the world around them, and this lesson explores ways to positively address their observations and questions. This video will help you frame meaningful conversations that normalize talking about skin color, and the word melanin (the pigment that gives human skin, hair, and eyes their color) is explained.
Watch Explaining Race.
After you watch, you might want to:
Invite children to share ways that they would describe their own skin color.
Emphasize that we are all different and those differences can help us stand strong like the tree.
It's important to emphasize that what makes us different can also help make us strong!
Day 2: Provider to Parent
Day 2: Provider to Parent
Today is all about helping parents take practical steps to incorporate diversity (by broadening representation of all skin colors in books, art, dolls, and other materials used with children) while continuing the conversation about race in their homes. As you explore this topic, regularly check in with children to find out what they already know and how they are processing this information. Talking to children about race and identity now will help them become more empathetic listeners later.
As resilient as children are, big feelings are normal, and both kids and adults can practice self-care when emotions feel overwhelming. In the process of learning and growing, it's important to encourage children to celebrate who they are, exactly as they are. Everyone is valued and special!
Watch Ideas for Families, and play Let's Talk About Race!
It's important to consider families on base and what they have access to. What kind of foods are at the commissary? What toys, clothing, and home interior items are available at The Exchange? You may need to help caregivers get creative!
Day 3: Fun with Families
Day 3: Fun with Families
Today is all about helping parents playfully engage with their children. This lesson highlights the importance of words of affirmation and how they can help build confidence. Every child has a unique personality and gifts to share with the world, and you can have a lot of fun helping them explore what those are as they are developing.
Watch We Are Wonderful.
When children recognize and name the things that make them wonderful, they will be more likely to call out the good in their classmates, neighbors, and friends. This is one way you can teach them to come together and show them that everyone is wonderful from the inside out.
Day 4: Professional Practice
Day 4: Professional Practice
Today is all about helping you learn tangible ways to address some of the barriers you, along with caregivers, may encounter when talking about race and racism. Feeling inexperienced on the topic, being afraid of making a mistake, and not wanting to offend anyone are all challenges you can overcome, and being equipped with the right tools in conversations about racism helps us move past fear.
Everyone starts somewhere, and this is a marathon—not a sprint—to the finish line. From your heart, to your home, your classroom, and community, this can be a formative process. With a commitment to learning new, helpful ways to approach this conversation, you have the ability to continue moving forward in this journey, no matter how daunting it may feel at the beginning.
Watch the webinar Talking about and standing up against racism.
Day 5: Questions and Reflections
Day 5: Questions and Reflections
Lessons about race and racism can feel hard, but can get easier when we thread conversations and activities about identity into a child's daily routines and activities.
Please take a moment to reflect on the questions below, and how your answers may shape the work you do for military children and families!
Of the lessons reflected in the webinar, which do you believe is most important?
Why did you select that lesson?
How will you integrate lessons into your work with children and families?
How can you help military families diversify what children see in their home?
As a mother, I want to raise my children with love, empathy and a desire to leave our world better than we found it. Part of that looks like having challenging conversations with my children in age-appropriate ways, but it's not always easy to know where to start. My hope is that this webinar provides the tools and insight that helps parents, with any level of comfort and experience, feel more confident in having these discussions as they are also reminded that they are not on this journey alone.
—Patricia A. Taylor, Anti-Racism Educator
Congratulations!
You've finished the Week 3!