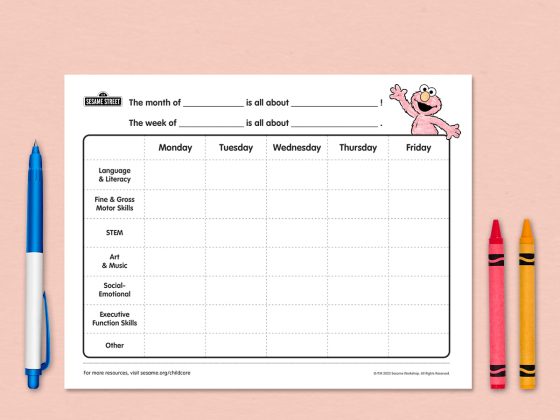 Lesson Planning Practice
A tool to plan opportunities for learning connected to monthly and weekly themes.
Brainstorm a few ideas each day that fit for you and the children in your care. You don't need to have something planned every day. If you don't get to all of the ideas, that's okay, too! Try out these suggestions for getting started:
Using the printable page, start with a monthly theme. (Check out the article Planning Our Days: Routines for Childcare Programs for some inspiration!)  
Choose weekly topics that fit into the monthly theme.
Map out a daily schedule that includes time for learning in different developmental domains.
Choose activities that complement the weekly topic and support whole-child learning.
Finally, weave in outings, celebrations, and special events.
If you're having a tough time finding activities that fit into the developmental domains, don't worry! Check out the links below for inspiration and resources to support children in the following topics: