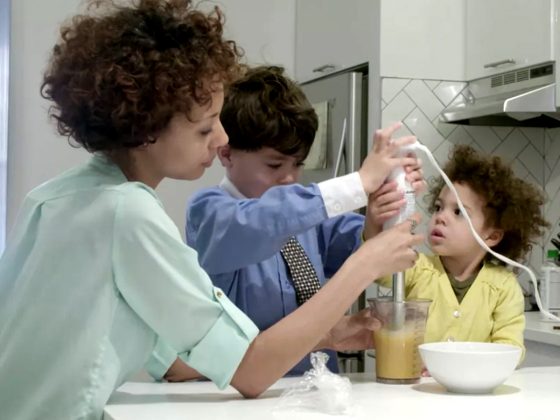 Family Routines
Encourage families to bond through playful, everyday interactions.
Families: everyone's in them together! Parents and caregivers may think that "together time" needs to be planned, which can be challenging with unpredictable schedules. In this workshop, you'll show families ways to create special bonding moments and learning opportunities during everyday routines, especially through playful interactions.
Show families the Spending Time Together video. Afterward, ask parents about special ways they playfully interact with kids during everyday routines, such as grocery shopping, laundry time, or mealtime. Encourage families to share ideas aloud (you might record them on chart paper). Ideas might include talking to baby about what she's looking at (while grocery shopping, a parent might say, "Look at those round, red apples"), putting older kids in the position of teacher or helper (while sorting laundry, a parent might say, "Can you help your sister put these socks in a pile?"), or singing a song together after mealtime.
Hang up five sheets of chart paper labeled taste, touch, smell, sight, and sound, then watch the Learning Through the Senses video. Encourage families to write suggestions for games and activities they've tried (or want to try) that use the different senses. As a group, read through the ideas on each sheet.