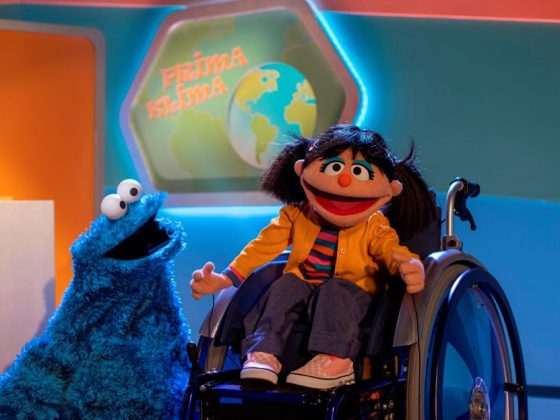 Welcome Elin, a New Friend on Sesamstraße!
A new resident is moving into Sesamstraße. Elin is a seven-year-old Muppet character who uses a wheelchair. For the first time, a character with a disability joins the German adaptation of Sesame Street.
NDR program director Frank Beckmann, said: "Germany's Sesamstraße has featured a diverse cast of characters for 50 years, where colorful monsters and humans are at home here. The diversity is also seen in our live-action films where we've met children with disabilities. Now a new friend joins Sesamstraße: Elin is self-confident, brave, and quick-witted. She will enrich Sesamstraße."
Elin was developed by NDR's Sesamstraße editorial team in collaboration with Sesame Workshop. NDR has been producing the German Sesamstraße in partnership with Sesame Workshop for 50 years.
Stefan Kastenmüller, General Manager Sesame Workshop Europe, said: "With Elin, a girl interested in technology and handicrafts moving into Sesamstraße, she demonstrates to German children that a wheelchair is in no way an obstacle to growing up smart, strong, and with lots of fun. We are very much looking forward to laughing and learning together with Elin on Sesamstraße."
Elin is interested in technology and likes numbers, but above all, she likes to tinker. She has confidence in herself and when things get tricky, she doesn't give up, even if she may get a little impatient when things don't turn out the way she expected. When Elin is working on her handicrafts, she is completely focused and sometimes mixes up her words in a funny way. Her best friend is Elmo.
The impetus for the new character came from the Equal Opportunities Officer at NDR, René Schaar. The development team was guided by the idea that it is equally important for all children to see themselves represented on Sesamstraße. Elin was thoughtfully designed with consultation from advisors from the disabled community to ensure that the character was realistic and reflected lived experiences.
René Schaar, Equal Opportunities Officer at NDR said: "Elin uses a wheelchair, but it doesn't define who she is. At NDR, we are called upon to showcase the diversity and inclusiveness of our community. Elin helps us on this path."
Elin was built by the Jim Henson Company for Sesame Workshop. A children's wheelchair was converted in the NDR workshops. Elin is played by Iris Schleuss and Charlie Kaiser.
NDR is filming new clips for the 50th season of the iconic children's series at Studio Hamburg until March 30th. In the process, Elin makes her first appearance as a challenger to Krümelmonster in an episode of the new Sesamstraße quiz show parody "Prima Klima." The series addresses environmental and climate protection issues in an entertaining and child-friendly way.
The new episodes of Sesamstraße can be seen starting in autumn 2023 in the ARD Mediathek, on KiKA, on NDR television, and on sesamstrasse.de.