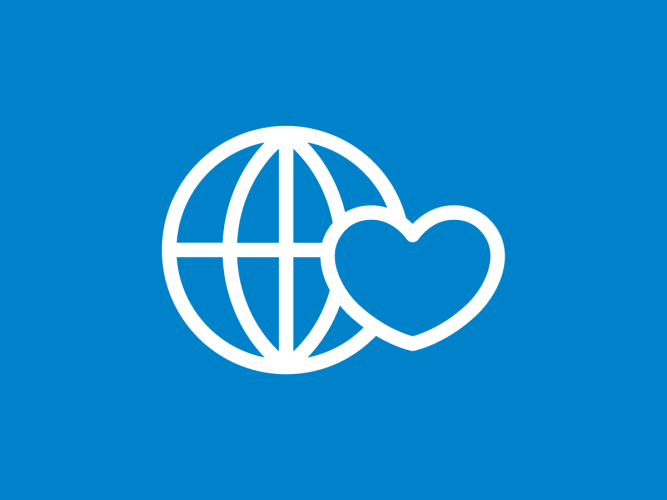 Sesame Workshop and The International Rescue Committee Named Semi-Finalists in Macarthur Foundation's Prestigious 100&Change Grant Competition
$100 Million Grant Would Deliver Critical Resources to Refugee Children Overseas
Eight proposals chosen from nearly 2,000—Competition to continue throughout 2017
New York, NY—(February 15, 2017) The MacArthur Foundation announced today that the partnership between Sesame Workshop and the International Rescue Committee (IRC) is among eight semi-finalists for the 100&Change grant, which will award $100 million to a single proposal promising "real and measurable progress" toward solving one critical problem of our time. Sesame Workshop and the IRC were chosen for their partnership to deliver transformative early learning and social-emotional support to millions of refugee children in Jordan, Lebanon, Iraq, and Syria.
The competition drew 7,069 registrants and 1,904 complete proposals. Of those, 801 passed an initial administrative review and were evaluated by a panel of expert judges who each provided ratings on four criteria: meaningfulness, verifiability, durability, and feasibility. MacArthur's Board of Directors selected the final eight.
"These eight ambitious proposals exemplify the passion, range, and creativity of the hundreds of applications," said MacArthur President Julia Stasch. "We hope that the competition inspires individuals and organizations to be bold and think big, because solutions are possible."
Of the 65 million displaced people around the world, half are children and 12 million of those are younger than eight. These children suffer the daily effects of violence and neglect, frequently leading to toxic stress, which can have lifelong damaging effects on learning, behavior, and health. But children are resilient, and damage can be reduced if they are reached early. In a partnership announced last May at the World Humanitarian Summit, Sesame Workshop and the IRC will create multi-media content featuring the trusted Sesame Street Muppets—adapted to reflect the experiences of refugee children and their parents— to meet critical developmental needs and mitigate the effects of adverse childhood experiences in crisis settings.
Digital platforms, as well as printed materials, will be used to reach the largest possible number of children and families, through multiple avenues such as schools, community centers, social protection programs, and health clinics. The initiative will create programs and culturally relevant content for children, as well as tools and strategies to help parents and caregivers more effectively engage with them to build resiliency and support learning.
"We are extremely gratified that the MacArthur Foundation is shining its bright light on the importance of addressing the impact of the global refugee crisis and we are humbled that our partnership with the IRC has been named one of only eight semi-finalists for the 100&Change grant," said Jeffrey D. Dunn, CEO Sesame Workshop. "Rarely in history has there been so much at stake for mankind in protecting a generation of children from the consequences of human conflict. This grant would give us the means to help millions of refugee children get the early education necessary to overcome the profound tragedy of their circumstances and grow into productive adults and parents capable of contributing to the forward progress of the world."
"At a time when the needs of refugees are greater than ever, we are deeply honored to be among the organizations considered for the MacArthur Foundation's 100&Change grant," said David Miliband, President and CEO of the International Rescue Committee. "Nearly half of all refugees are children who face bleak prospects due to the trauma of displacement and war. Our partnership with Sesame Workshop will help transform children's lives by making sure that their social-emotional needs are met so they are able to receive an education, contribute to their community and succeed as adults."
In January, the partners launched a 15-month pilot program to develop, implement, and assess educational materials for young children and caregivers among both displaced and host populations in Jordan, laying the groundwork for the future, larger initiative.
"Sesame Workshop has a long history of tackling difficult issues from a child's perspective and a unique ability to appeal to both children and adults. As the number of displaced children grew to unprecedented levels, we knew this was a place we needed to try to make a difference–but we knew we couldn't do it alone," said Sherrie Westin, EVP Global Impact and Philanthropy, Sesame Workshop. "We're so proud to be working with the IRC. By joining their expertise in large-scale program implementation in crisis settings and our ability to create engaging, proven educational content, we know we can help change the outcome for these children."
"The refugee crisis is at a never before seen scale, so reaching children requires new solutions and new partnerships," said Sarah Smith, Senior Director of Education at the IRC. "We have a strong body of evidence about how to improve children's development in adverse circumstances, but we don't have proven strategies to address the needs of children in conflict settings to the extent required. Our unique partnership with Sesame Workshop will allow us to fill this gap by drawing from what we know works in stable contexts to create, test, and refine materials to meet the unique needs of children in crisis."
The 100&Change competition will continue throughout the year. MacArthur's Board will select up to five finalists in September, who will present their proposals during a live event on December 11, 2017, before the Board names a single recipient to receive $100 million over up to six years.
About the IRC
The International Rescue Committee responds to the world's worst humanitarian crises, helping to restore health, safety, education, economic wellbeing, and power to people devastated by conflict and disaster. Founded in 1933 at the call of Albert Einstein, the IRC is at work in over 40 countries and 26 U.S. cities helping people to survive, reclaim control of their future and strengthen their communities. Learn more at Rescue.org and follow the IRC on Twitter & Facebook.
About Sesame Workshop
Sesame Workshop is the nonprofit media and educational organization behind Sesame Street, the pioneering television show that has been reaching and teaching children since 1969. Today, Sesame Workshop is an innovative force for change, with a mission to help kids everywhere grow smarter, stronger, and kinder. We're active in more than 150 countries, serving vulnerable children through a wide range of media, formal education, and philanthropically-funded social impact programs, each grounded in rigorous research and tailored to the needs and cultures of the communities we serve. For more information, please visit sesameworkshop.org.
Press Contacts
Elizabeth Fishman, Vice President of Strategic Communications – Sesame Workshop, New York
elizabeth.fishman@sesame.org
212-875-6618
Flavia Draganus, Director of Communications – International Rescue Committee
communications@rescue.org
347-556-5973
Alicia Durand, Senior Director of Strategic Communications – Sesame Workshop
alicia.durand@sesame.org
212-875-6223