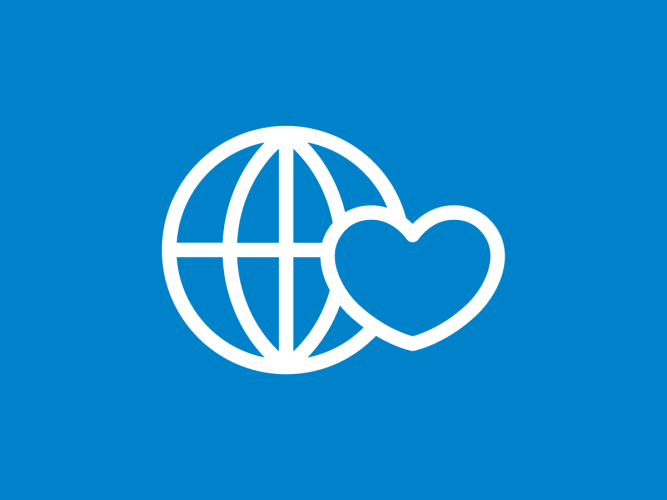 Sesame Street, World Vision Partnership Expands to 11 Countries, Now Reaching Syrian Refugee Children with Lifesaving Health and Hygiene Lessons
Innovative WASH UP! program will support socio-emotional well-being through lessons on proper water use, sanitation and hygiene habits for Syrian refugee children in Jordan, Lebanon, and the Kurdish Region of Iraq.
On Global Handwashing Day, October 15, Sesame Workshop, the nonprofit educational organization behind Sesame Street, and humanitarian agency World Vision will announce a major expansion of the WASH UP! program designed to empower young children with lifesaving sanitation and hygiene habits.
The partnership will now work in a total of 11 countries across Africa, Latin America, Asia, and the Middle East. Messages about using clean water, hand washing with soap, and proper latrine use will now reach children in Ghana, Mali, Niger, Malawi, Zambia, Zimbabwe, Honduras, and Afghanistan. In Jordan, Lebanon, and the Kurdish Region of Iraq, the WASH UP! program has been adapted to support the socio-emotional needs of Syrian refugee children, many of whom have experienced significant trauma.
Pneumonia and diarrhea are leading causes of death in children under the age of five, and simple behaviors like washing hands and wearing shoes to the latrine or toilet can have a measurable impact on child health outcomes. The WASH UP! initiative aims to reduce the number of young children contracting preventable and treatable diseases by providing access to meaningful water, sanitation, and hygiene (WASH) education.
Since 2015, World Vision and Sesame Workshop have teamed up to bring the WASH UP! program to communities in Africa through videos, play mats, books, and songs, all featuring a vibrant 6-year-old Muppet named Raya and her friend Elmo. By harnessing the power of both organizations – Sesame Workshop as the largest informal educator of children in the world and World Vision as the leading non-governmental provider of clean drinking water in the developing world – the partnership delivers critical health lessons tailored to the specific needs of vulnerable populations.
The expansion to Jordan, Lebanon, and the Kurdish Region of Iraq will include curricular themes to support children's socio-emotional needs in the Syrian response context, including coping with big feelings, building resilience, being hopeful, conflict resolution, and practicing mutual respect and understanding. Watch the video of Raya's visit to Lebanon here.
"Building on the success of our partnership in Zambia, Sesame Workshop is thrilled to expand our partnership with World Vision to bring the WASH UP! program to ten additional countries, including three in the Syrian response region," said Sherrie Westin, Executive Vice President of Global Impact, Sesame Workshop.
"Our goal is to deliver an engaging educational program that achieves positive WASH outcomes and meets contextually specific needs among participating children, particularly the most vulnerable," said Dr. Abigail Bucuvalas, Senior Director of International Social Impact at Sesame Workshop. "Among young Syrian refugees, this includes the integration of key socio-emotional themes with WASH messaging, even as they practice proper hand washing behaviors. Supporting the socio-emotional needs of this population is integral to the WASH UP! initiative and to our broader work to bring critical early education to refugee children in the region."
Sesame Street and World Vision launched their partnership in Zambia, where the WASH UP! school-based curriculum was adopted by teachers, enjoyed by students, and embraced by the Zambian Ministry of Education. School children are learning critical behaviors such as handwashing, wearing sandals to go to the latrine, and safe water storage. Children are encouraged to take these healthy habits home to teach their parents and siblings, increasing the program's impact. WASH UP! has reached more than 50,000 children in Zambia since its launch.
"By engaging with local experts and the educational experts at Sesame Street, World Vision is finding that we can adapt our school program to meet the most pressing needs of children, whether it is dealing with the horrors of war for Syrian refugee children, literacy for Zambian children, or clean water for Ghanaian children," said Dr. Greg Allgood, vice president of water at World Vision.
###
About Sesame Street
Sesame Workshop is the nonprofit media and educational organization behind Sesame Street, the pioneering television show that has been reaching and teaching children since 1969. Today, Sesame Workshop is an innovative force for change, with a mission to help kids everywhere grow smarter, stronger, and kinder. We're present in more than 150 countries, serving vulnerable children through a wide range of media, formal education, and philanthropically-funded social impact programs, each grounded in rigorous research and tailored to the needs and cultures of the communities we serve. For more information, please visit www.sesameworkshop.org.
About World Vision
World Vision is a Christian humanitarian organization conducting relief, development, and advocacy activities in its work with children, families, and their communities in nearly 100 countries to help them reach their full potential by tackling the causes of poverty and injustice. World Vision serves all people regardless of religion, race, ethnicity, or gender. For more information, visit www.wvi.org.
Press Contact
Hallie Ruvin, Sesame Workshop
Hallie.Ruvin@sesame.org
212-875-6344