Press Release
SESAME STREET'S HISTORIC 50TH SEASON KICKS OFF NOVEMBER 9TH, 2019, WITH A STAR-STUDDED PRIMETIME SPECIAL
Landmark season introduces a new child cast member and confronts the stresses and pressures faced by today's kids
Celebrity guests include Chrissy Teigen, Charlie Puth, Meghan Trainor, Misty Copeland, Elvis Costello, Dave Grohl, and many more
(October 16, 2019 – New York, NY) – Sesame Street got its start at the height of the civil rights movement and the war on poverty, in answer to a simple but powerful question: could television help prepare less advantaged children for school? In 1969, the show's founders tapped researchers, entertainers, and other visionaries to create a "street" like no other, where colorful monsters, humans, and even grouches lived side by side. Today, Sesame Workshop – the nonprofit organization behind the iconic show, which has grown to reach kids and families in more than 150 countries and 70 languages – is proud to announce the start of Sesame Street's landmark 50th season.
What's New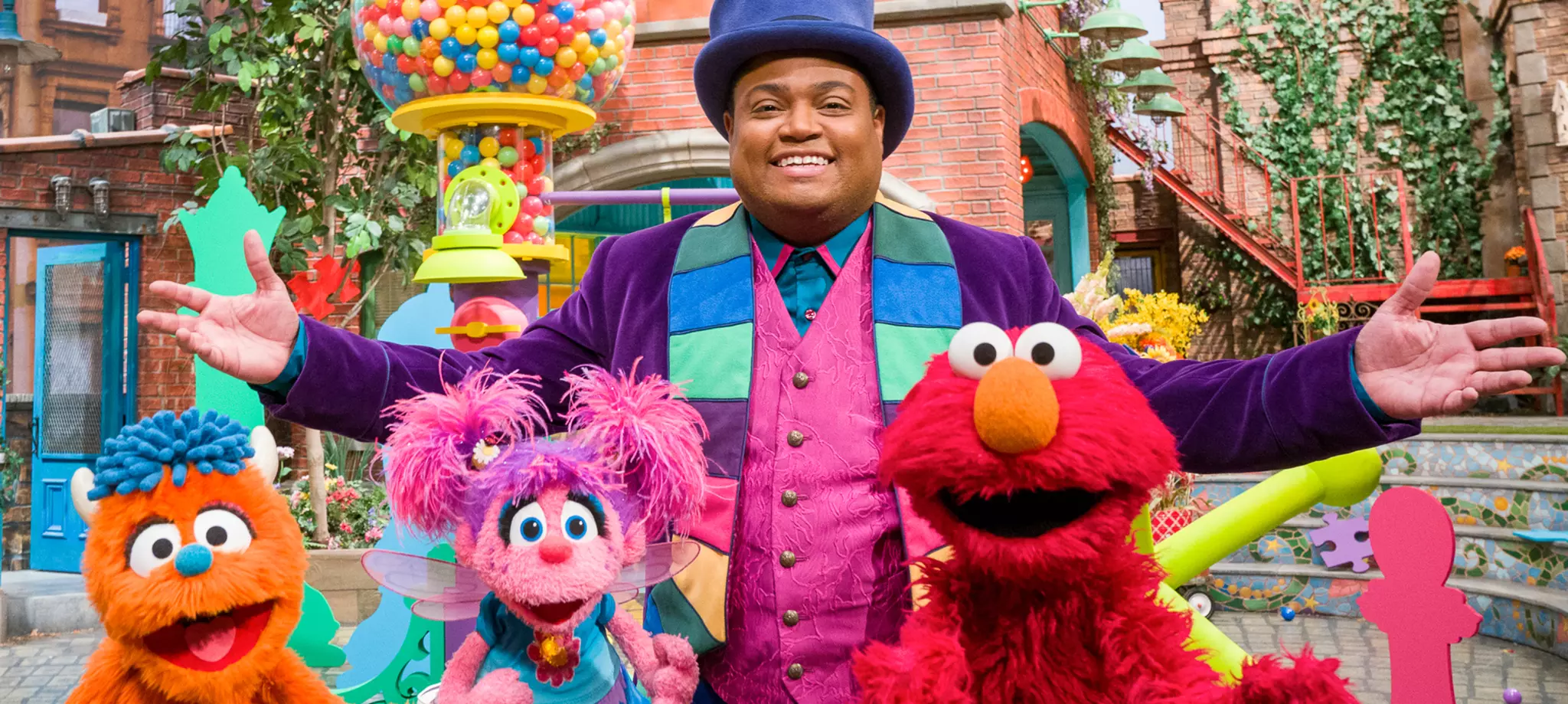 Early childhood is a time filled with wonder, curiosity, and possibility – but today's preschool children are facing a pervasive problem.
"Young children are under an unprecedented amount of stress and pressure to meet certain academic and social-emotional benchmarks, often before they're developmentally ready," said Dr. Rosemarie Truglio, Sesame Workshop's Senior Vice President of Curriculum and Content. "That mindset can make children reluctant to take even the safest risks – never pouring their own milk because they're too worried about spilling it."
Caring adults can help kids get out from under that pressure by giving them room to make mistakes and the resiliency skills to bounce back afterwards. And Sesame Street's Season 50 curriculum focus – we call it "Oops and Aha! Embracing the Power of Possibility" – is here to help.
To stay resilient and curious when faced with day-to-day obstacles, children need to master the following skills: positive thinking (trying new things, embracing silly ideas, asking questions); perseverance (saying "It's okay to make mistakes," "I'll keep trying," "I won't give up"; and self-confidence (thinking "I can do this!" even when the going gets tough). This season, Elmo and friends model those skills as they overcome social, physical, and academic challenges that will be very familiar to little ones. In one episode, Elmo wants to join his friends outside on a snowy day, but gets frustrated as he struggles with getting dressed on his own; with a little help from his friend Jacket, he remembers to take a deep breath and keep trying until he's all bundled up and ready to play. In another episode, Abby Cadabby's brother Rudy feels upset when he "ruins" a drawing; Alan encourages him to keep trying, and Rudy eventually creates a new picture inspired by his mistake.
Throughout Season 50, we hope to equip children and parents with a toolbox of self-regulation strategies and creative thinking skills to help them through common challenges, reinforced with easy-to-remember phrases and hand gestures. Tools include:
Expressing – and naming – emotions. By learning concepts like "frustrated," "nervous," and "disappointed," children can understand how they're feeling – and recognize how others are feeling – through body language, facial expressions, and other cues.
A 'stoplight' strategy that uses the familiar red, yellow, and green color scheme to encourage kids to Stop, Make a Plan, and Go.
Empowering self-talk that encourages kids to say positive statements like "I can do this!" out loud to themselves.
Belly breathing, a powerful calming strategy that children – and adults! – can use anywhere and anytime they need it.
Problem-solving language. By approaching everyday challenges like a puzzle to solve, kids can observe, question, investigate, make mistakes, and try again in their quest.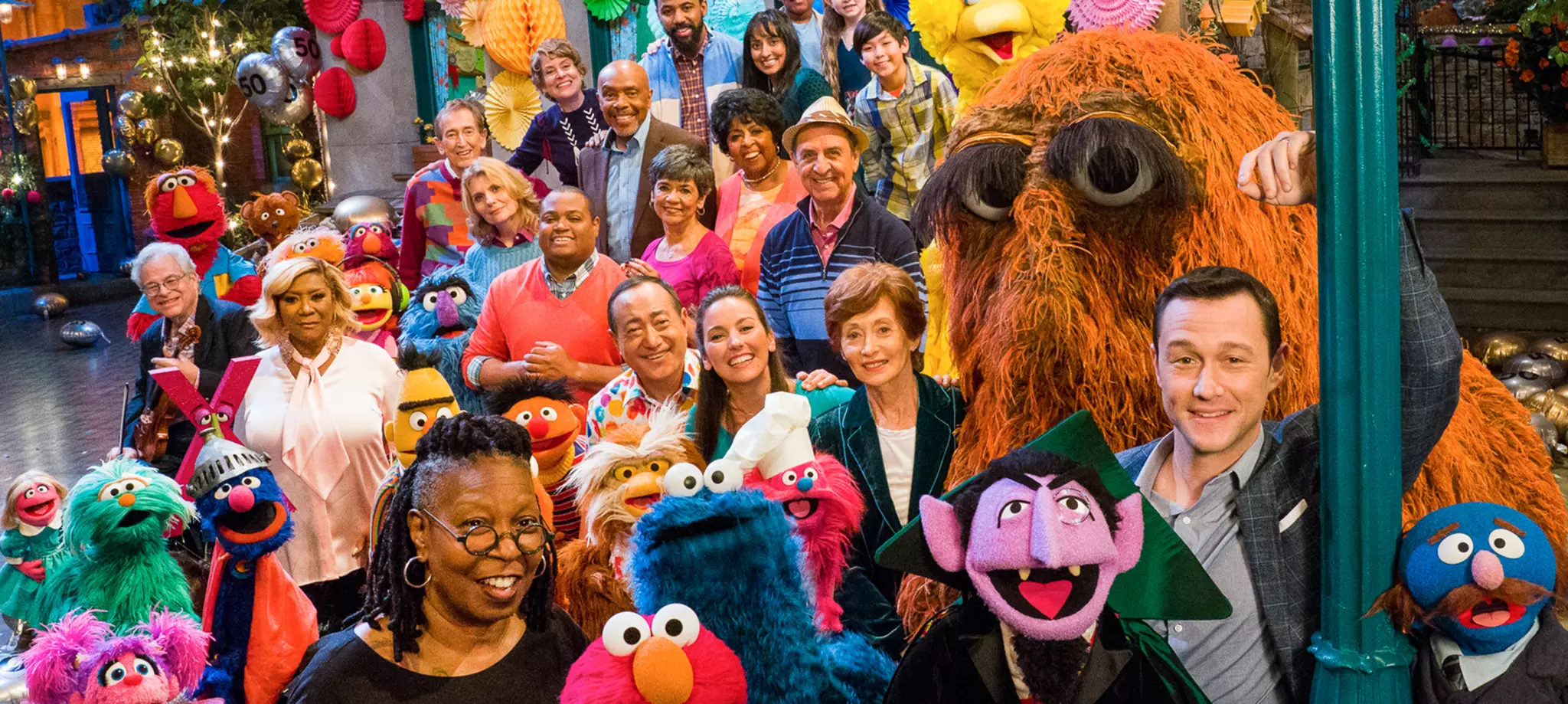 Sesame Street's 50th Anniversary Celebration is an all-ages primetime event that offers a sweeping look back at fifty years on the Street. Hosted by Joseph Gordon Levitt, the special reimagines classic segments and songs as the Sesame Street gang gets ready for a big party to celebrate the neighborhood's 50th birthday. When the famous street sign goes missing before the party, it's up to Elmo, Rosita, Grover, and Abby to track it down, while Big Bird and Snuffy plan a surprise of their own.
This star-studded special includes cameos from rare characters like Roosevelt Franklin and Kermit the Frog, and visits from celebrity guests. Joseph Gordon Levitt serves as the audience's guide, breaking the fourth wall to talk to viewers about his favorite Sesame Street memories. (He also pops up inside some of those classic moments, discovering a telephone with the Yip Yip Martians, practicing "near" and "far" with Grover, and joining the shocked crowd meeting Snuffy for the first time.) Norah Jones sings "Welcome to the Party" as neighbors from yesterday and today return to the street. On the roof of 123 Sesame Street, music legend Nile Rodgers sings "People in Your Neighborhood" with a little help from Grover and Ernie. Sterling K. Brown masters Cookie Monster's patented cookie-eating technique, and Elvis Costello joins Kermit in a touching rendition of "It's Not Easy Being Green." Elmo and Abby Cadabby join Meghan Trainor to sing the uplifting anthem "Count Me In." Before the big party, Hoots the Owl tries one more time to convince Ernie to "Put Down the Duckie," with help from friends like Whoopi Goldberg and Itzhak Perlman on the violin. The celebration culminates with a big performance of "Sing" on the iconic stoop, led by Patti LaBelle.
Nearly every human cast member returns for the celebration: Bob (Bob McGrath), Maria (Sonia Manzano), Luis (Emilio Delgado), Susan (Loretta Long), Gordon (Roscoe Orman), Linda (Linda Bove), Gina (Alison Bartlett), Leela (Nitya Vidyasagar), and Miles (Olamide Faison). Legendary puppeteers Fran Brill and Caroll Spinney and current cast members Alan (Alan Muraoka), Nina (Suki Lopez), and Chris (Chris Lawrence Knowings) also appear in the special.
Sesame Street's 50th Anniversary Celebration premieres on Saturday, November 9th on HBO and Sunday, November 17th on PBS. The special is brought to PBS in part by Chrysler Pacifica and Macy's.
Select Episode Descriptions
5001 Big Bird Across America

Big Bird wants to visit Cousin Bird in California, but he learns that it's too far for him to walk! Nina suggests a cross-country road trip, so they can stop off to meet new friends along the way. When Elmo worries that he'll miss Big Bird too much, Nina explains that they'll video chat him every day, so he can share their adventures.
5002 The Great Sesame Street Cake-Off

Cookie Monster and Gonger team up against Grover and Alan in a competition to see who can bake the best birthday cake for Nina. Elmo and Rosita help the two teams work together, combining one team's cake and the other team's frosting to make the ultimate birthday treat.
5011 The Great Fruit Strike

When the pineapples, bananas, and other fruits get tired of being passed over at snack time, they decide to leave Sesame Street. The gang gets together to sing songs about how much they appreciate fruit to get them to stay.
5013 New Neighbor on Sesame Street

There's a new face on Sesame Street! With Elmo and Rosita's help, military kid Charlie finds her way around the neighborhood and learns that Sesame Street is a place where everyone can be friends – no matter how different they are.
5021 The Fluffster Kerfuffle

When Rudy tries to use Julia's special toy, Fluffster, as part of a game he's playing with Elmo and Abby Cadabby, Julia gets very upset. Alan explains that Fluffster helps Julia feel calm, so it's not a toy she likes to share. Rudy apologizes, and the friends find a different way to play together.
5023 Zoe Breaks Her Arm

When Zoe slips and breaks her arm during a ballet jump, she finds it difficult to play or do anything fun with her arm in a cast. The gang works together to put a twist on "If You're Happy and You Know It," so Zoe can join in.
5029 The Treasure of Yucky Mama

During Oscar the Grouch's spring "cleaning," he finds a fifty-year-old treasure map – but the neighborhood looks much different than it used to! Will Elmo, Abby, Nina, Oscar, and Charlie learn enough about Sesame Street's history to complete three grouchy challenges and find Yucky Mama's treasure?
5034 Fourth of July Celebration

It's July Fourth on Sesame Street! Elmo, Abby Cadabby, and Rudy look for the perfect birthday present for America, but Alan teaches them that holidays are really about spending time with family and friends. Together, they do something kind for all their neighbors.