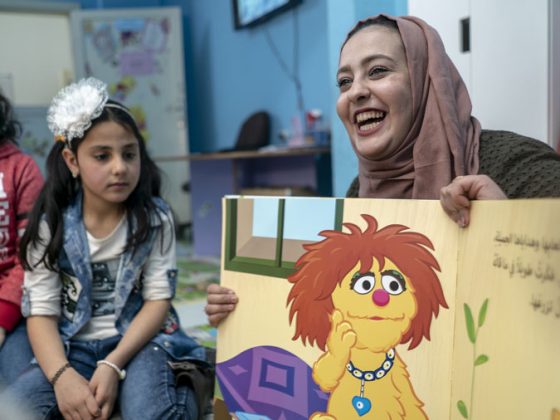 Impacting Millions of Young Lives: Ahlan Simsim Five Years On
December 8, 2022
David Miliband, President and CEO of the International Rescue Committee, and Sherrie Westin, President of Sesame Workshop, look back at the learning and growth since Ahlan Simsim became the first 100&Change Awardee for its work helping displaced children thrive.
Five years ago on a snowy Chicago day, the two of us made a pitch for the MacArthur Foundation's inaugural 100&Change award. This seminal competition would provide a historic $100 million to a project striving for measurable progress against solving a critical problem of our time: the impact of the war in Syria on children's futures. Sesame Workshop and the International Rescue Committee (IRC) built a concept to transform children's experiences in the early years, reaching them through a combination of bespoke media programming, education programs, and support to parents in the midst of the crisis, designed from the start to reach families at scale and to sustain long after the lifetime of the award. Together we aimed to set a new gold standard for early childhood development (ECD) programs in conflict settings.
Our reasoning was simple. No period in a child's life is as critical as their early years. It is when we know we can have the greatest impact and return on investment — when the brain is most sensitive to its environment and exposure to adversity can have lifelong repercussions. We also wanted to show that disregard for early childhood development in almost all humanitarian programing is a tragic mistake — and a tremendous opportunity to help millions of children overcome the impact of war and thrive into adulthood.
Five years on, the Ahlan Simsim program (which means "Welcome Sesame" in Arabic) has touched the lives of millions of children and caregivers. Over a million children have been reached with ECD services delivered by IRC and partners. The new, locally-produced version of Sesame Street has been seen by 6.4 million children in Syria, Jordan, Lebanon, and Iraq and by over 23 million across the wider region. Its characters and storylines are designed to reflect the realities of children across the Middle East and support both their academic and social-emotional learning. We have also held fast to our commitment to sustaining impact, and through partnership with government and national nongovernmental organizations (NGOs) to embed these programs into national systems and policies, we are on track to lay the groundwork for long-term systems change.
A commitment to learning has always been at Ahlan Simsim's core, with a robust research plan built into the design through our partner, New York University's Global TIES for Children. The COVID-19 pandemic made in-person services and research all but impossible for two years — but stimulated new thinking on how to serve children out of reach of critical services. We turned to mobile phones to reach families with adapted content and leveraged the power of mass media to reach families with the Ahlan Simsim TV show during the global crisis. As a result, we now have a suite of service models to learn from — from preschool classrooms to home visits. Ahlan Simsim programming is embedded into government-run kindergartens, schools, and health clinics, and mobile phone-based outreach.
We learned that there is no single model for delivery; rather a range of mechanisms for reaching populations affected by crises. Our insight on partnership with governments and local NGOs to scale ECD programs is equally valuable: our work in Iraq, Jordan, Lebanon, and Syria illustrates the importance of both national and local partnerships. Our investment in co-development of programs with national ministries and NGOs, designed to meet context-driven needs, is strengthening formal systems of education, healthcare, and social development for the long term.
Ultimately, the success of the MacArthur award will be measured by the long-term change it catalyzes. The model we adopted and refined is already being scaled up, spurring further long-term investments in education like the LEGO Foundation-funded work supporting playful learning for Rohingya families in Bangladesh and in East Africa. And we are committed to sharing our learnings with governments, NGOs, and donors so that Ahlan Simsim's lessons — expected and unexpected — are utilized to better inform support for future generations.
None of this could have been possible without the flexibility granted to us by MacArthur over the past five years. Through its bold approach of trust-based philanthropy, the Foundation has demonstrated audacious leadership and helped to positively change the course of millions of children's lives.
This article originally appeared on the MacArthur Foundation