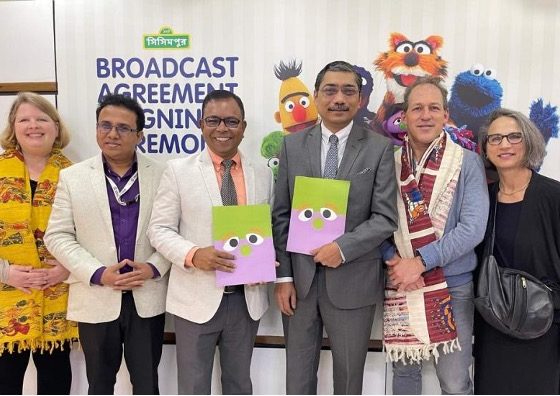 CEO Diary: A Visit to India and Bangladesh
In January 2023, Sesame Workshop CEO Steve Youngwood traveled with colleagues to Workshop offices in India and Bangladesh.
I recently traveled to Sesame Workshop's Country Offices in India and Bangladesh to meet with our colleagues there, experience our work in the field, and speak with potential new partners. I was accompanied by Shari Rosenfeld, our Senior Vice President of International Social Impact, and Alison Bryant, our Chief Research, Impact, and Data Officer.
India
We started our trip in India, where we got to spend time with Sonali Khan, Sesame Workshop India (SWI) Country Office Head, as well as the whole SWI team at a Town Hall meeting, including a great ice breaker and lively Q&A.
On a site visit to an Anganwadi center (a rural child care center) in Unnao, I met with local officials and saw our curriculum in action with some knowledgeable providers and adorable children. Then, in a community in Lucknow, the capital of Uttar Pradesh, I witnessed the powerful impact of fathers using our resources to learn new ways to better engage and connect with their children, via local direct services provider Daddy Cool. I heard several moving stories and met with a few happy moms who also attended the sessions. As one dad said, (rough translation from Hindi):
We were also present for the first-ever India Partner Summit — a big moment for SWI, as they thanked their partners and further established themselves as thought leaders in Early Childhood Development. The opportunity for us to be a convener was clear, and there was genuine excitement about Sesame Workshop having an even larger role in India.  
Our India visit ended with a promising meeting at the U.S. Embassy with Ambassador A. Elizabeth Jones, with whom we discussed possible partnership opportunities — and then filmed a PSA on resilience for the Embassy's social channels, featuring Elmo, the Ambassador, Chamki, and yours truly.  
I was uplifted and inspired by what I experienced, impressed by the work our talented teams are doing (by the way, shoutout for the nomination for Kidscreen's "Best YouTube Channel" award!) and thankful for the opportunity Sesame Workshop has to make an impact in the lives of kids and families in India.
Bangladesh
Our second stop was to our Country Office in Bangladesh. Eighteen years after our 2005 Sisimpur launch, Sesame Workshop Bangladesh (SWB), with its 25+ person office, is the new Sesame Workshop model in action. Sisimpur is part of the fabric of Bangladesh society, with a generation of adults having grown up with it and a new generation of kids embracing it. Beyond TV, we have a growing digital footprint, are bringing curriculum into schools, and are now looking into consumer products and brand partnerships, all with an aligned impact agenda. The focus is identity and belonging, celebrating a wide range of differences: from gender to neurodiversity and more — including introducing Julia in the upcoming season.  
We know that partnerships make us stronger. During our visit, Shah Alam, Managing Director for SWB, hosted a great meet-up of current and potential partners from foundations, government, business, implementing partners, and other stakeholders. Sisimpur clearly holds a special place in the hearts of the people of Bangladesh.
On a visit to Cox's Bazar, we saw Play to Learn in action, including seeing Watch, Play, Learn videos integrated into BRAC's Humanitarian Play Labs — with the help of solar-powered projectors. Engagement was high and the kids clearly knew and loved the characters. In one Rohingya home, we saw our program focused on fathers, where a dad of four told us the Play to Learn sessions have changed his approach to parenting and that he is spending more time with his children. 
This feedback is what made the closing of a new broadcast agreement with Duronto TV so much more impactful: Sisimpur will run for four more years! This is key to maintaining our reach: Duronto TV is the country's only kids' broadcaster and allows us to reach more than two-thirds of Bangladeshi children. And Sisimpur remains available on public broadcaster Bangladesh TV as well.
As I felt in India, the office itself is an inspiration. After almost twenty years, it still feels like a startup, with a great sense of energy, connectedness, and purpose. We held a couple of All Staff meetings on couches in the central area that felt like a living room, where we screened part of Street Gang, held free-flowing discussions (on topics ranging from DEI to future vision), ate a delicious Pitha feast, and listened to traditional and popular music from the SWB band!
When we launched Sisimpur, Bangladesh was in a different place. The economy and country have grown tremendously; it is emerging out of being categorized as a developing country and is the 8th most populous country in the world. This represents a great growth opportunity if we can build on our legacy and strengths to meet the new landscape and needs. Work is to be done, but I believe we can do it!
One theme Alison, Shari, and I kept repeating to each other and discussed frequently with the teams is that there is so much to learn from the work being done by all of our offices and teams around the world. We need to make sure the learning goes in all directions, in and out of our NYC headquarters and between the offices. We all feel after this visit that we are making progress.
There is nothing like the power of an in-person visit to connect with our teams and bring to life the work we are doing and the powerful impact it can have, all while embracing philanthropic, government, and commercial partners to support and deliver on the mission.