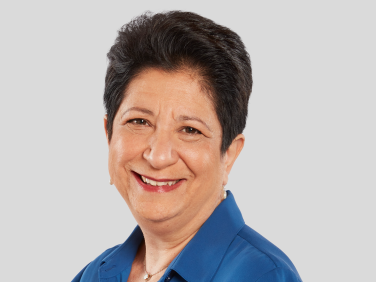 Rosemarie Truglio, Ph.D.
Senior Vice President, Curriculum and Content
Rosemarie T. Truglio is the Senior Vice President of Curriculum and Content at Sesame Workshop.
Dr. Truglio is responsible for the development of the interdisciplinary curriculum on which Sesame Street is based and oversees content development across platforms (e.g., television, publishing, toys, home video, and theme park activities). She also oversees the curriculum development for all new show production, including Esme & Roy, Mecha Builders, Helpsters, and Ghostwriter.
Previously, Dr. Truglio managed a global content team responsible for co-productions and content development across media platforms worldwide, including digital media. From 1997 to 2013, she oversaw all educational research pertaining to program development, which informed both production and creative decisions and strategies for enhancing the entertaining and educational components of linear and interactive content. Before joining Sesame Workshop in 1997, she was an Assistant Professor of Communication and Education at Teachers College, Columbia University.
Dr. Truglio has written numerous articles in child and developmental psychology journals and presented her work at national and international conferences. Her most recent book is Ready for School! A Parent's Guide to Playful Learning for Children Ages 2 to 5, published by Running Press (2019). She was co-editor of "G is for Growing: Thirty Years of Research on Children and Sesame Street" (2001) published by Lawrence Erlbaum Associates. Dr. Truglio has appeared on many network, cable, and radio programs including The Today Show, Good Morning America, CNN Town Halls, NPR's Life Kit for Parents, Morning Edition, and All Things Considered, and she has been interviewed by reporters from a variety of national newspapers and news agencies.
Dr. Truglio serves on the advisory boards of Child Trends News Service, Playful Learning Landscapes Action Network, Read Alliance Advisory Council, and the University of Kansas Advisory Board for the College of Liberal Arts and Sciences. She previously served on the National Advisory Child Health and Human Development Council (NICHD), LEGO Foundation Advisory Board for the Research & Innovation Network, NSF REESE grant entitled Collaborative Research: Using Educational DVDs to Enhance Preschooler's STEM Education, PBS KIDS Next Generation Media, Children's Digital Media Center Advisory Board, and National Association for Media Literacy Education.
Dr. Truglio received a Ph.D. in Developmental and Child Psychology from the University of Kansas, and a B.A in Psychology from Douglass College, Rutgers University. She received distinguished alumni awards from Douglass College (2005), University of Kansas (2013), Rutgers University (2014), University of Kansas Women's Hall of Fame (2015), and Teachers College Medal for Distinguished Service (2022).
Contact for Speaking Engagements
Sesame Workshop Speakers Bureau
SpeakersBureau@sesame.org