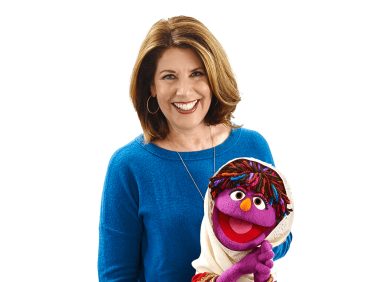 Letter From the President
A note from Sherrie Westin.
Whatever the challenges—and 2022 brought many—we know education can make the world a better place for children. This year Sesame Workshop kept rising to meet the urgent needs of a generation of children growing up in very uncertain times.
One only needs to look to Ukraine, where nearly two-thirds of the country's children have been forced from their homes as war rages. From the conflict's earliest weeks, Sesame was there with resources to provide comfort, build resilience, and help families cope with the challenges of war and displacement.
With more children forcibly displaced than at any time since World War II, millions of futures are in peril. We scaled up our "Welcome Sesame" program to bring joy, belonging, and hope to young children in the Middle East, South Asia, Latin America, and East Africa, as well as right here in the United States.
In the wake of COVID-19, mental health challenges are among the most significant threats to children's well-being. Right now, Sesame is rapidly developing a comprehensive initiative to help destigmatize mental health distress and equip both parents and community service providers to nurture children's emotional well-being.
Today we're reaching more children in more places than ever before. It simply would not be possible without the dedication of our Sesame team, our partners and donors, our Board of Trustees, and friends like you. For your support, our heartfelt thanks.
Gratefully,

Sherrie Westin
President, Sesame Workshop